The Thorn Bearer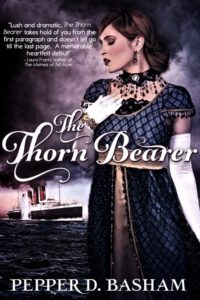 The Thorn Bearer by Pepper Basham begins in the Western North Carolina Mountains with the Dougall family. The family of minor English Nobility moved to North Carolina when they fell on difficult financial circumstances. With the death of Mr. Dougall, Mrs.Dougall and youngest daughter, Catherine, return to the estate home in England, but not before Catherine promises to marry Sam Miller.
A year later, older sister Ashleigh boards the Lusitania escorted by Sam. Ashleigh's feelings for Sam have grown over the months since her fiancé abandoned her. As a trained nurse, she hopes to bury herself in serving children orphaned during the War. Things heat up when ex-fiancé, Michael, boards the ship with his new family.
Ashleigh struggles to forgive Michael in the same way she can't forgive her father for the atrocities he committed on her. Acts she believes leave her unworthy of any man's affections. Through twists and turns on two continents during a World War, Pepper Basham weaves a story of redemption and love. This story reminds us the broken people can become heroes and that God's love never fails.