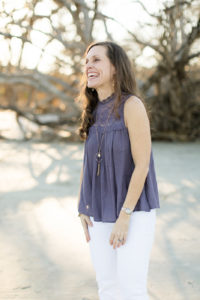 Leslie Kirby DeVooght writes women's fiction with strong elements of romantic comedy. They say, (whoever 'they is') to write what you know. With that in mind, Leslie began setting her books on Georgia's Coast. As a native of St. Simons Island, Leslie knew the natural beauty of the Golden Isles and South Georgia would be the perfect setting for her stories. Add in some Southern charm, a dash of humor, and a heavy dose of romance and she found the right ingredients for her brand of books and flash fiction.
After graduating from Glynn Academy, Georgia's second-oldest high school, Leslie attended Florida Southern College. She majored in Political Science and minored in English with a lot of time spent in the theatre department. Choosing the courtroom over the stage, Leslie graduated from the Walter F. Georgia School of Law at Mercer University. She returned home and began a career as a prosecutor in the Brunswick Judicial Circuit. She took over the appellate brief writing for the entire five-county circuit, always happy to be writing.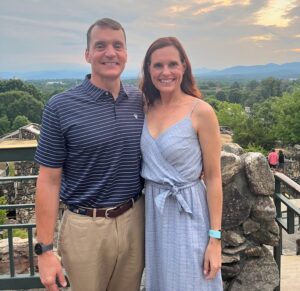 However, without some romance her story would be boring. While interning in her hometown, Leslie's best friend set her up on a blind date with one of her brother's law associates. By the next spring, Leslie was engaged and has now been married for nineteen years.
Of course, a good story needs a few twists. At twenty-nine years old and almost nine months pregnant, Leslie was appointed to the bench as an Associate Magistrate Judge. The position was part-time, so Leslie spent a lot of time with her two children and soon after (this was a real twist) a third child. During this time, Leslie began writing fiction. Her first book was a young adult novel that still needs extensive edits, but completing it was like finishing a half marathon—now she knew she could do it and was ready to start her next project.
But wait…there's another twist. Leslie's husband got a job an hour south of the Island in Jacksonville, Florida. The family of five packed the minivan and headed south, moving into the close-knit San Marco neighborhood. With the change, Leslie decided to stay home full-time and write seriously. After attending the American Fiction Writers' Conference, Leslie found her genre in contemporary romance and wrote her second book.
This book changed everything, helping Leslie find a literary agent with the prestigious Steve Laube Agency. Since completing the story, Leslie has written five more books and over a dozen flash fiction stories.
Although the story isn't over yet, Leslie is loving the journey. Her flash fiction stories have been published in multiple issues of Spark magazine. In 2018, after placing in the top ten for Writer's Digest Short, Short Story Contest, Leslie's story, Avoiding the Bouquet, was published in The Writer's Digest anthology.
Leslie was a 2017, 2019, and 2021 ACFW Genesis Semi-finalist and a 2018 and 2019 ACFW First Impressions Finalist. In 2017, Leslie was awarded first place for overall fiction and first place for Contemporary Romance at the Florida Writer's Conference and second place for Contemporary Romance at the Blue Ridge Writers Conference. Leslie placed first in the Write-to-Publish contest for Contemporary Fiction, and at the Ohio Christian Writers Conference, she placed second.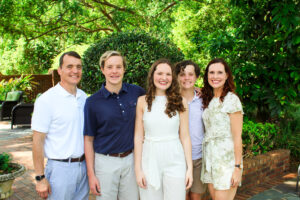 Although Leslie can't wait for a publishing contract, she is living her happily-ever-after. She loves cheering on her three children in their activities (too many to list) and date nights with her always inspiring husband, who loves that she researches kissing.
Keep up with Leslie's story by subscribing to her newsletter and following her on social media. (Links below)
In 2019, Leslie began a short chapter serving as Director of Women's Ministries at Southside Methodist Church, and a long chapter as a co-owner of Spark Flash Fiction magazine.
Life happens in the plot twists, and currently, Leslie is enjoying volunteering at the Episcopal School of Jacksonville, fundraising for the Ridgecrest Foundation, leading an online Bible Study fellowship group, and serving as manager of her son's soccer team.
If Leslie is ever short on humor, she can lean on her hilarious agent, Bob Hostetler, who is always supportive and encouraging.
Facebook at Leslie Kirby DeVooght
Twitter @LeslieDeVooght  
Instagram @LeslieDeVooght.