Just the Way You Are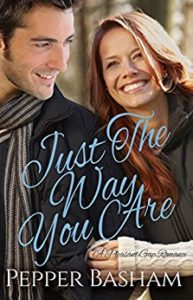 Just the Way You Are by Pepper Basham is a fairytale for grown-ups complete with secret passageways, hidden messages, manor houses, and even a wicked witch (sort of). When Eisley Barrett, a divorced mom of three, travels to England for research on a family mystery, she never imagines that she will find her prince charming. Although Wesley Harrison isn't a prince, he is a movie star and an English Gentleman with a country estate.  After enduring years of betrayal from her ex-husband, Eisley is wary of love. Wesley spent years living as a self-indulgent playboy, but a tragedy in his past left him clinging to righteous living and running away from old temptations, especially ones named Vivian.
While this is a swoony romance with quite a bit of kissing, it is also a story of redemption with a healthy dose of humor. You'll find yourself rooting for these characters to find their happily ever after.